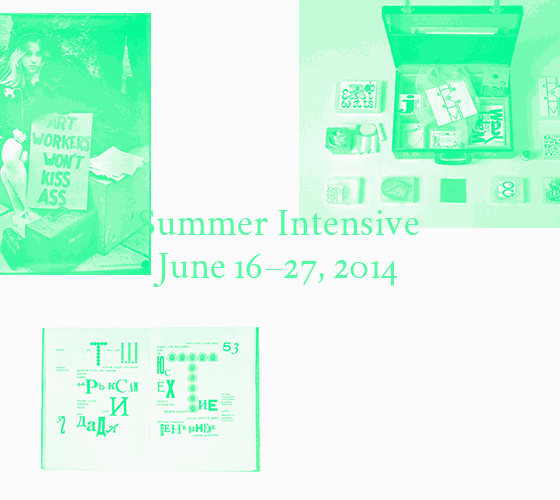 June 16–27, 2014
Apply online through April 7
Triple Canopy is pleased to announce its first Summer Intensive, a two-week program in the history and contemporary practice of publication, for twelve higher-level college students, graduate students, and recent college graduates. We invite applications from prospective students with backgrounds in areas such as writing, art, literature, art history, new media, and design.
During the Summer Intensive, Triple Canopy editors and invited artists, writers, and technologists will lead discussions and workshops with participating students, who will research, analyze, and enact an approach to publication that hinges on today's networked forms of production and circulation but also mines the history of print culture and artistic practice. The program will take place at Triple Canopy's venue in Greenpoint, Brooklyn, and will include visits to studios, archives, and cultural institutions.
The Summer Intensive will address such questions as: How have artists, writers, and designers historically used the pages of magazines and books as sites of and material for experimentation? How have new-media publications challenged conventions of authorship and reception, only to have those very challenges soon become the foundation of the new economy? How have artists, writers, designers, and technologists responded to ensuing changes in the media landscape? And how have responses differed in areas with disparate resources and relationships to technology? What are the politics of access and identity associated with online public forums and media?