On October 5, please join us in welcoming Louise Sandhaus for a lecture on "Designing History: Big, Small, and Messy." This lecture is presented as part of the Fall 2021 Rutgers Design Lecture Series, free and open to all.
Register at art.rutgers.edu/design-lecture-series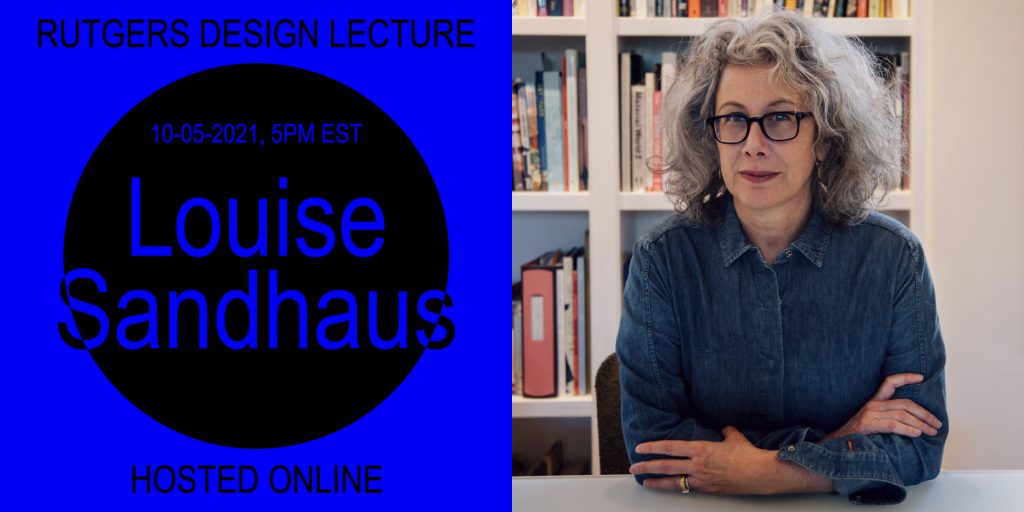 Louise Sandhaus a graphic designer and design educator. She is currently faculty at California Institute of the Arts (CalArts) Graphic Design Program and former Program Director. Louise is the founder and co-director of The People's Graphic Design Archive, a crowd-sourced virtual archive that aims to preserve, expand, and diversify graphic design history. Her book on the history of California graphic design, Earthquakes, Mudslides, Fires and Riots: California and Graphic Design 1936-1986, was published in 2014 by Metropolis Books and Thames & Hudson. It received laudatory attention from The New York Times, The Guardian (London), and The Los Angeles Review of Books, among many others. In 2015, the book received the Palm D'argent from The International Art Book and Film Festival (FILAF). In 2019, her book, A Colorful Life: Gere Kavanaugh, Designer, co-written and designed with Kat Catmur, was published by Princeton Architectural Press. The book was the subject of full-page L.A. Times article by Lyra Kiltson and was winner of the 2019 AIGA 50 Books|50 Covers competition.